My wife and I are planning to build an extension at home this summer, so it was with this in mind we decided to take our main holiday early this year.  After much debate we decided on a mix of something old and something new - A 14 night trip to California (old) and Oregon (new).  The thinking was 4 nights in San Francisco, 6 nights in Oregon (3 locations x 2 nights) and 4 nights in Napa (wine country) would provide a good mix of relaxation, discovery and of course, some photo opportunities.  Turned out not a bad idea.
San Francisco is one of my favourite cities. It's also very hilly, so if you haven't been and decide to go, make sure you take some comfortable shoes.  And a jacket, it can get cold, not only at night but day time too; not all of California is beach weather.  I believe it was Mark Twain who said "The coldest winter I ever saw was the summer I spent in San Francisco".  Fortunately for us the weather was ideal - high 50's to low 60's.
We've done all the main tourist attractions like Alcatraz, Fisherman's Wharf etc in the past, so this time we wanted to mainly chill out, shop, and discover some new places.  We spent some time wandering about in "The Castro", the spiritual centre of LGBT in the USA. The area is now one of the most expensive places to live in the city, Zuckerberg apparently has a place nearby. Despite plenty of rainbow flags and "interesting" place names (Hand Job Nails, The Sausage Factory Restaurant), there were no obvious signs of "queer culture".  Or maybe there were, when I read that back.
Haight-Ashbury is nearby, famous for being where the hippy movement started in the late '60's.  We passed many a pot-head whilst exploring the area, legal now in CA of course. With plenty of vintage clothing stores, coffee shops and a cracking record store, selling a huge range of actual records, this is a great place to spend an afternoon.  The area got a bad reputation for a while, Charles Manson moving in probably didn't help, but appears pretty safe these days.  Golden Gate Park is close by too, a sprawling escape from the city, though not somewhere you go at night apparently.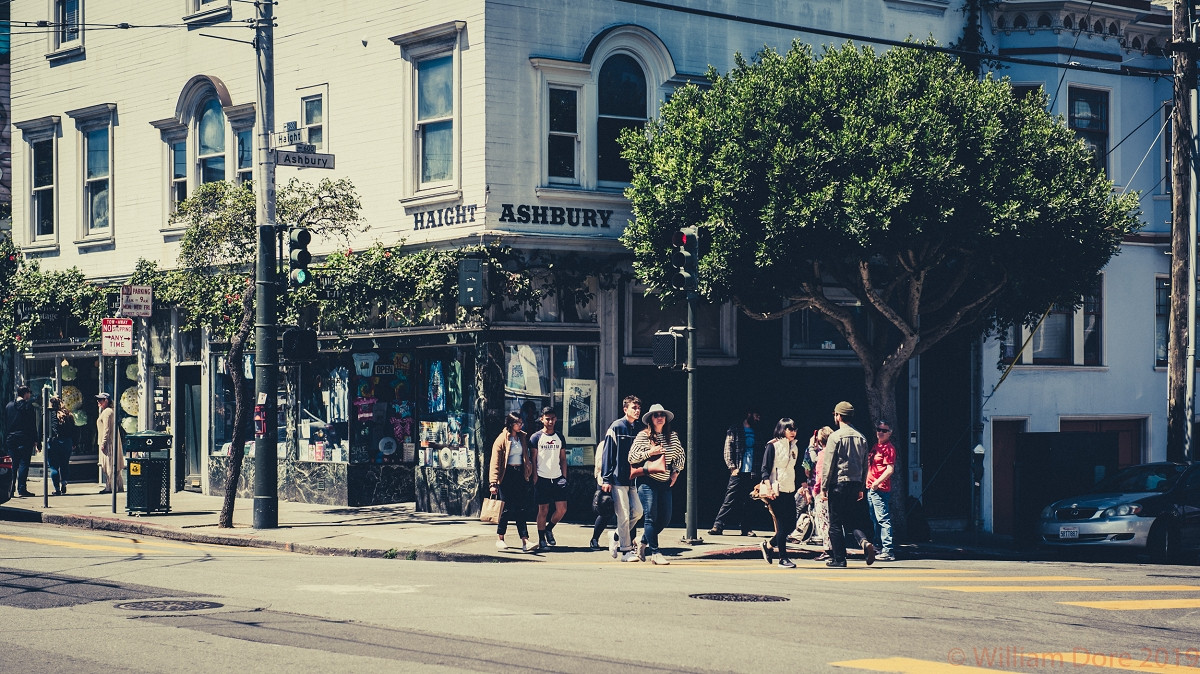 Oregon is the next state up from California and has a coastline that rivals, or betters, California's famed Pacific Coast Highway, but without the crowds.  This was the attraction and the main reason for our visit.  Our first stop was Brookings, a small town just 6 miles north of the California border, or 380 miles north of San Francisco. We stayed in a hotel right on the beach; even with the windows closed you could still hear the surf of the Pacific lapping on the beach throughout the night, very therapeutic.  Less therapeutic was the weather.  It was raining heavily when we arrived, very Scottish like, but it did stop sufficiently for us to head out for a few optimistic sunset shots. 10 minutes in the car and a short hike later we arrived at Arch Rock viewpoint. It was at this point I discovered that leaving your L Bracket in your suitcase is not the best idea. Doh! I fired off some high ISO handheld shots, then tried a few with the camera resting on a bumpy fence post, though discovering that my remote release was in the same small bag as my L Bracket didn't help matters.  Ultimately the sunset didn't amount to much, and with plenty of more opportunities pending I wasn't too despondent.
The next morning I rose at 5.45am and headed out on my own to Harris State Beach, a short drive from our hotel.  It wasn't raining, however the leaden skies weren't screaming glorious sunrise. I had the place to myself for the 90 minutes I spent wandering amongst the driftwood, rocks and sands, dodging intermittent rain, emptying my wellies, chasing the brolly I had bought the previous day in Walmart, and cleaning rain drops off the lens/filters. It was magic. Less magic was the time spent attempting to removing the rain drops from the images in Lightroom. All part of the fun.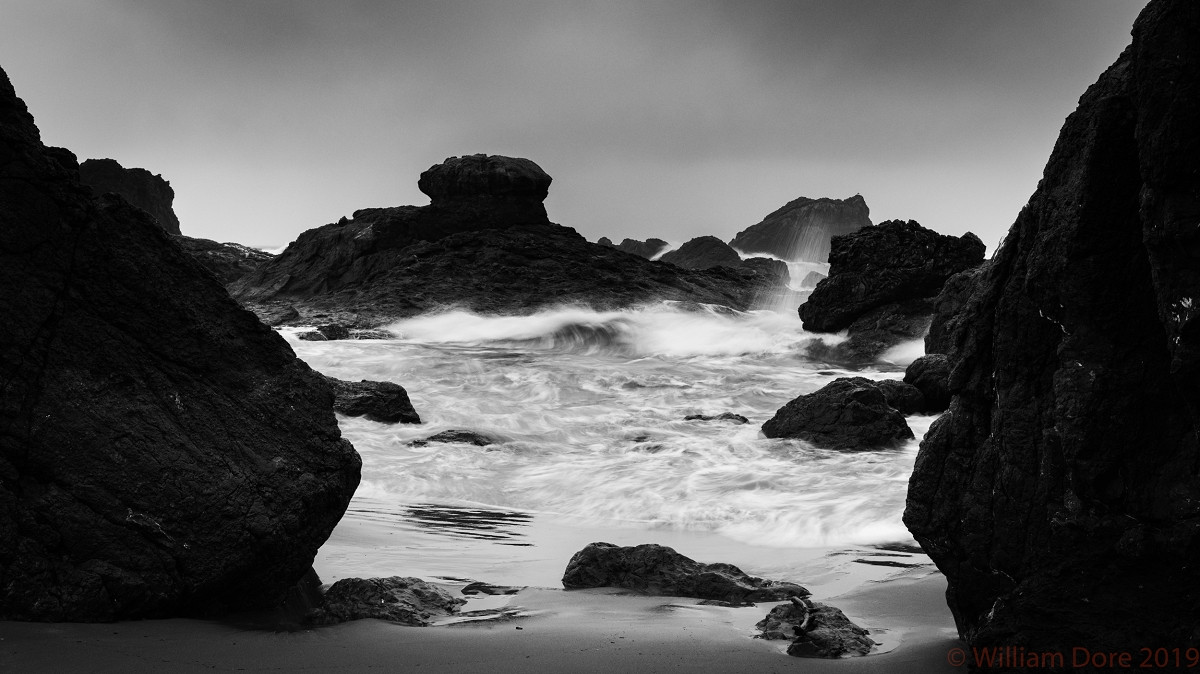 One "sunset" wander at Pistol River, and one sunrise meander along the beach in front of our hotel later (with sadly few clouds), we checked out the Beachfront Inn and were on our way to Pacific City/Cape Kiwanda, 250 miles up the coast. About six hours later we checked in to our room at the stunning Headlands Lodge, complete with an enclosed balcony overlooking the beach, Haystack Rock and Cape Kiwanda Natural Area, basically a massive sand dune 240ft high, the largest on the Oregon coast. 

After a burger and a pint of locally brewed IPA we decided we would head up the large sand dune for sunset.  Great idea at the time!  We discovered that a lot of the dune was fenced off, due to crumbling edges that had resulted in people getting killed. I had read that this place can get really wild when it's windy, so was secretly hoping for a storm during our stay.  Sadly none materialised, but you can get an idea from the video below of how dangerous it can be.

I tried a few long exposures from near the top of the dune, but I was sure I could actually feel the place moving as I stood there.  Whether it was the moderate waves crashing onto the dune 200ft below, or the beer, I'm not entirely sure, but only one of the exposures over 10 seconds was acceptably sharp. 
The next morning was a little bit misty, so I spent an hour taking photographs from the balcony; long exposures were much easier back on terra firma, albeit the compositions were a little restricted. We then headed out for the day to explore the local area and find somewhere for a sunset shoot.  We returned later to one of the places but sadly a layer of offshore fog put paid to any potential colour. A few cocktails later it was off to bed.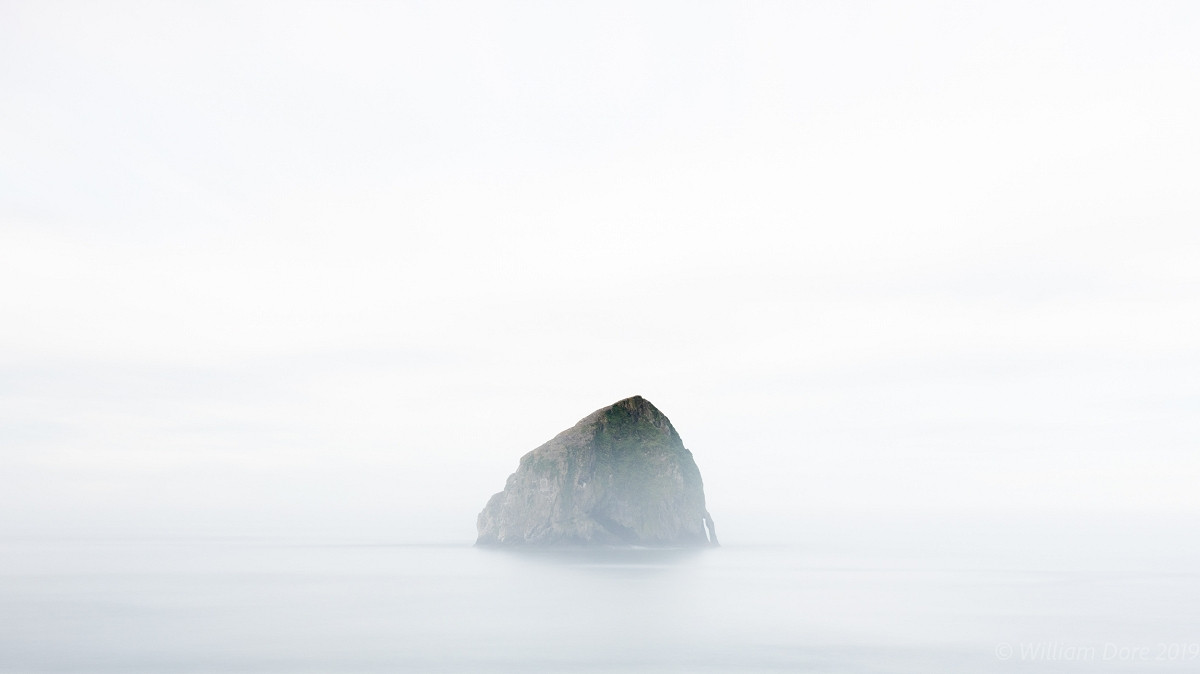 On our final morning we had a few minutes of sunrise colour and again I made good use of the balcony, isolating people on the beach with a telephoto lens, and grabbing a couple of lengthy exposures of Haystack Rock. Then we were off to Bandon.
Bandon is a place I've long wanted to visit. I first heard about it when I read about Bandon Dunes Golf resort, regarded as the closest thing to Scottish links golf in the USA, circa 10 years ago. At that time any visit would have been to play golf, not take photographs, however whilst researching the area I couldn't help but notice the beautiful beaches and magnificent sea stacks. So now I was excited to see things like "Face Rock", "The Wizard's Hat", "Elephant Rock", and "Cats and Kittens" in person.
We checked into our hotel late on a grey afternoon then headed to Old Town Bandon for dinner and a beer at Bandon Fish Market, a small "chippy" in the harbour.  After some truly delightful, amazingly fresh, fish and chips we headed to the beach for "sunset".  Of course there was no sunset, just a gradual dimming of the minimal light present.  Despite the lack of light I spent a good 90 minutes on the shore, hunting for compositions and dashing from "sneaker" waves, generally driving the Mrs mental.  All good fun.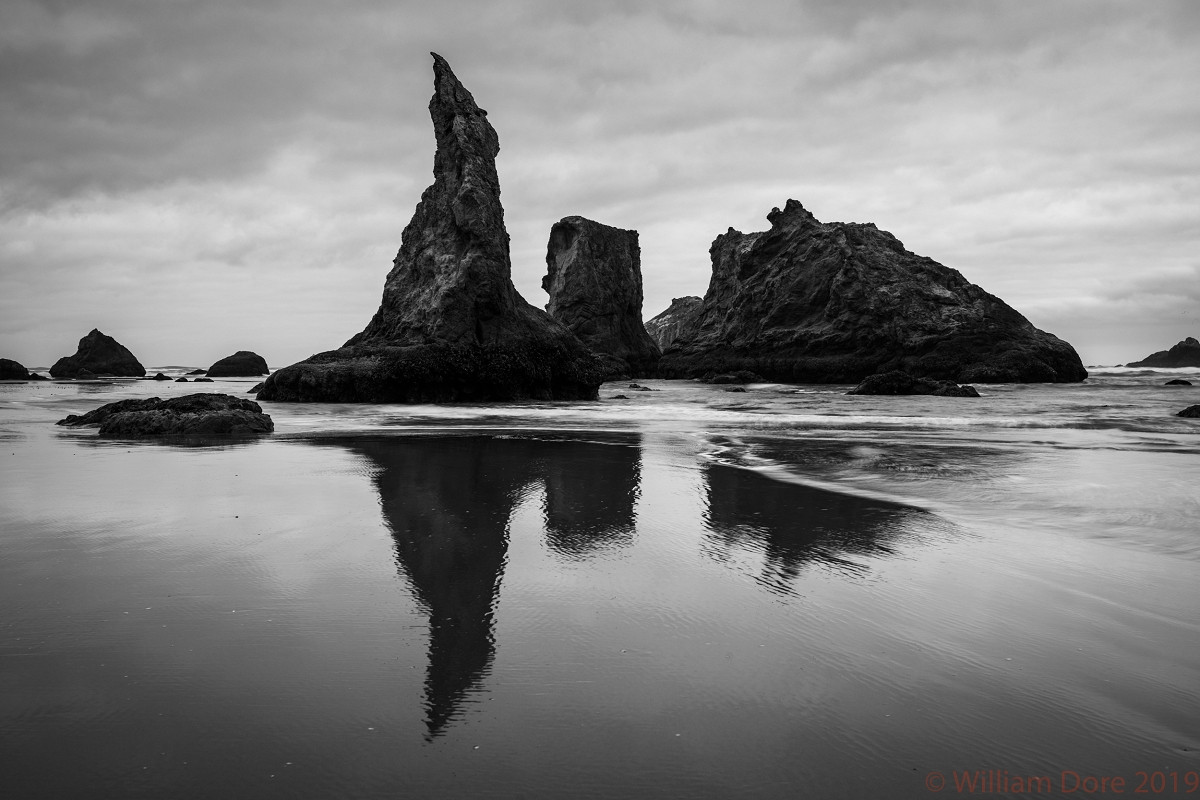 I checked the Clear Outside weather app before setting my alarm for 05.45, with the forecast of 50% cloud cover looking very promising.  Alas, when I looked out the window in the morning it was obvious no sun was going to penetrate the thick grey skies, so back to bed for a bit more rest. The rest of of our stay in Bandon followed the same theme, breezy, cool and almost zero light.  We did go and check out Bandon Dunes, and I was able to verify first hand that the resemblance to Scotland is uncanny.  You would swear you were standing at Old Prestwick or Royal Troon, not 5000 miles away on the Pacific Coast.  The fairways were lined with thick gorse, and they even had heather (though that surely has to have been shipped in)!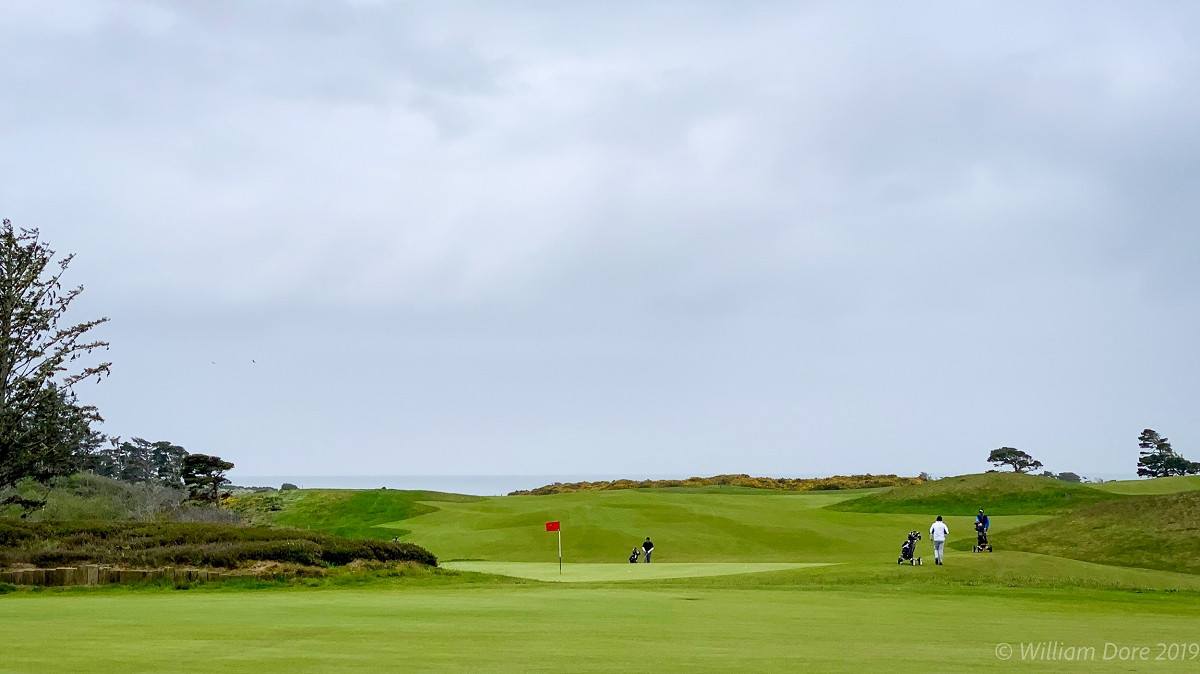 Napa Valley is circa 50 miles north of San Francisco so our drive from Bandon was a lengthy one, taking around 9 hours, with minimal stopping.  As this was the last four nights of our trip we had elected to stay in the town of Napa itself, to minimise driving and maximise rest (for the camera as well as ourselves). Our hotel was right on First Street, with plenty of restaurants and bars within easy walking distance.  A balcony overlooking the street, complete with a fireplace, was just the ticket.
The grey skies of Oregon were now only a memory, we barely saw a cloud here, and daytime temperatures soared into the low 90's (it's more typically mid - high 70's in late April so this was unexpected).
We visited one of the dozens of wineries in the valley, Sterling Vineyards, where you ride a cable car to the top of a hill where the winery is located, and sampled five wines during a one hour tour. As I was driving it was more tasting than drinking for me, but a worthwhile experience none the less.  They also had a collection of photographs by Ansel Adams on display, another reason for visiting. Most of the vineyards are open to the public, they all look spectacular, many have stunning art collections in addition to wine and food. I've never been to Tuscany but I imagine it is quite similar.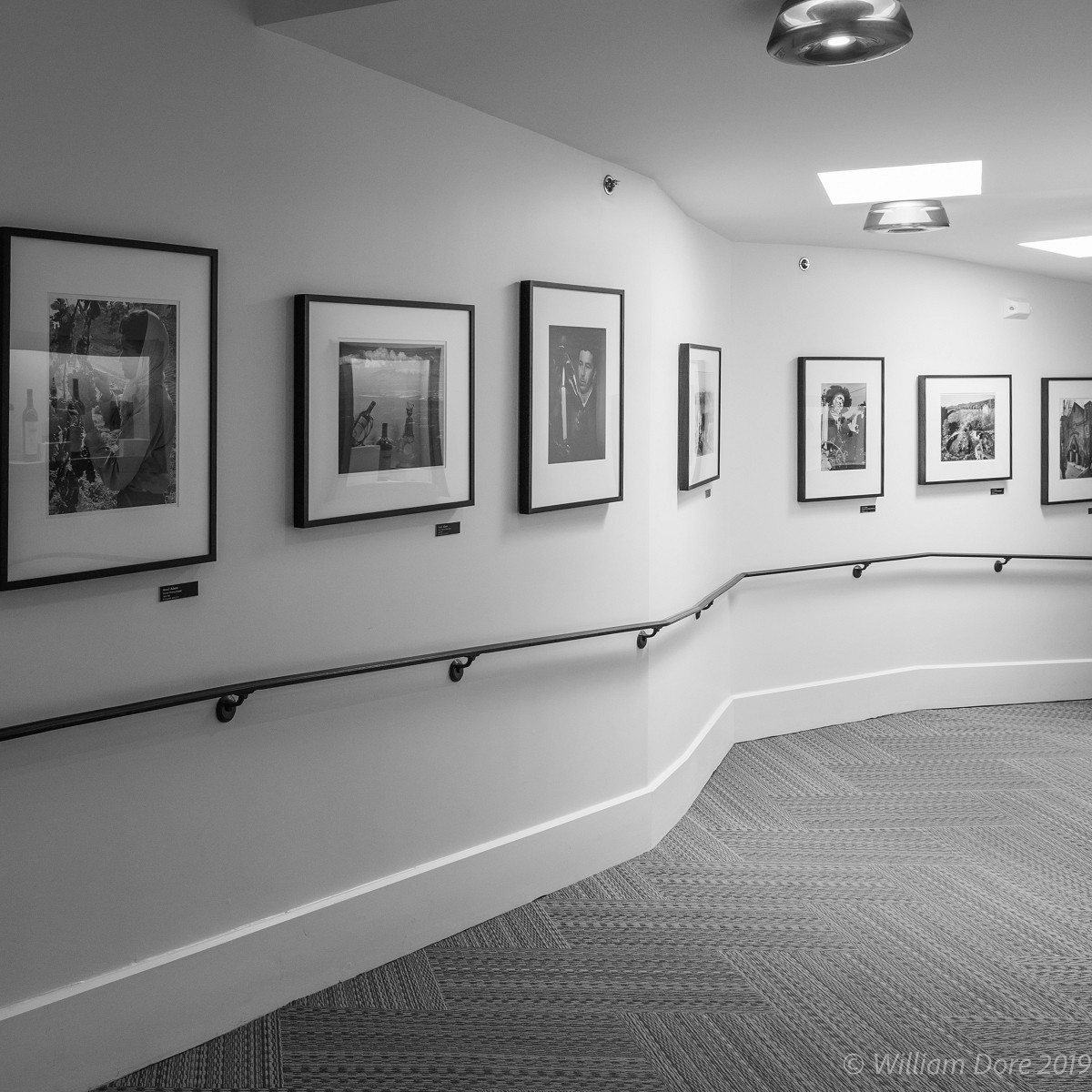 Other towns we visited were St Helena, Yountville (which has the highest concentration of Michelin Star restaurants in the world, 6 stars within 6 blocks), and Calistoga where we had a lovely dinner on the patio of the Calistoga Inn and Brewery overlooking the Napa river.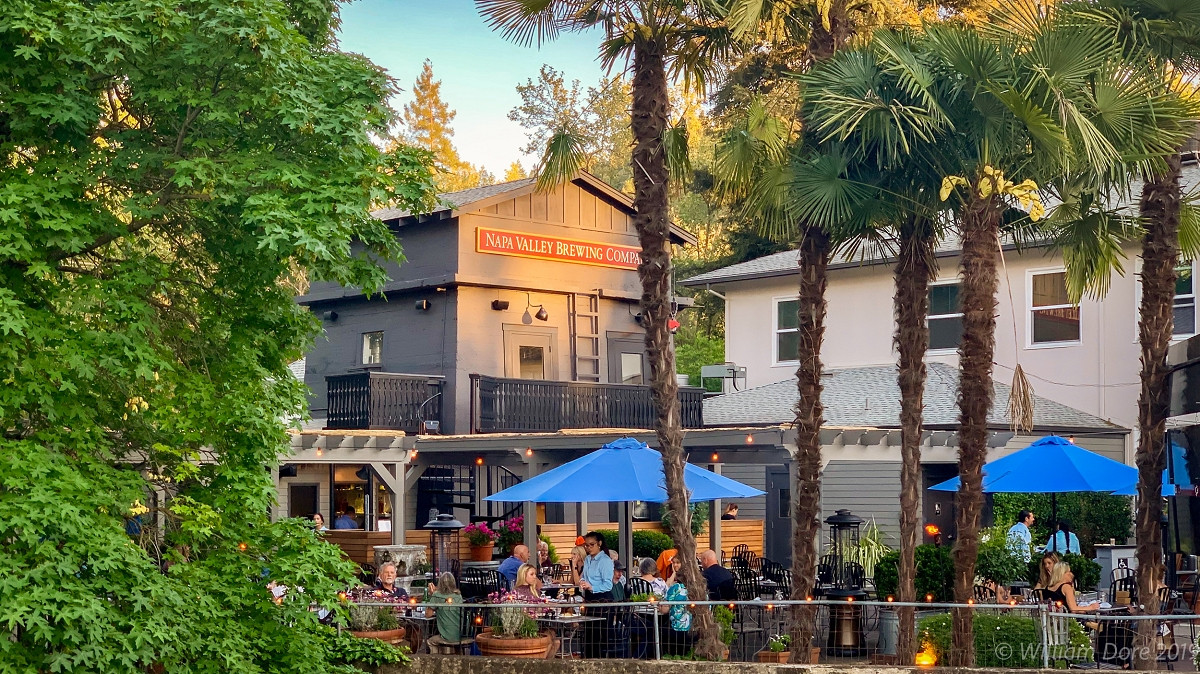 We aren't really fans of fine dining, but if that's your scene, Napa and the surrounding area is a perfect "vacation" spot.  Personally I prefer more simple food - stunningly fresh pizza and a flight of sample IPA's for breakfast for example, and places like that were plentiful.  One day we did a mini pub crawl, sampling craft beers in four pubs all within 5 minutes walk from our hotel. The Napa Palisades Saloon had 44 different beers on tap (though it's possible they weren't all beers).


Homeward Bound
As the saying goes, "time flies when you're having fun" (and "all good things must come to an end").  Our four nights went by in a flash and before we knew it were back in San Jose Airport waiting for our plane home.  We both agreed it had been a great trip, everywhere we stayed was lovely, and we would definitely return in the future.
Many thanks for reading.  I've uploaded a number of photos into two galleries, click the links below.  Let me know if you like them, or even if you don't  :---)
(more to be added when processed)

A short (amateur) video, mainly of Oregon  ---->



Places I'd highly recommend if you ever head to Oregon or Napa Valley (Click on name for website):

The Catalyst Restaurant, Brookings
Culinary Institute of America, Napa
(the above has a restaurant, cooking demos, gift store, museum, art collections including photography). 
William Dore, May 2019.